21 days challenge: no wheat products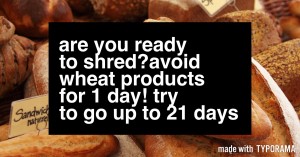 Share this post: challenge your friends to join you. Do it and get support from each other.
Are you tired of your spare tire and feeling tired? Maybe try to cut out all products containing wheat, without following a gluten free diet (more calories and more expensive):
– all types of bread
– cupcakes
– pastries
– processed and packaged products.
The problem with our generation is that wheat has been modified greatly. The grain that our grandmas were using to make bread is not the same as the grain that we are using today. This is also the reason why there are way more people who are gluten intolerant and also fat.
Several years ago, I was diagnosed gluten intolerant so I had to clean out my pantry, which was great. We don't realize how many wheat products we have until we throw them away.
– cookies
– flour
– pasta
– crackers
– read the ingredients behind your packages: 19 ingredients to stay away from.
In fact, almost everything you purchase in the middle aisles of your grocery store contain wheat! So what you have left is located on the outside which is what you really need to fill up your grocery cart:
– fresh vegetables
– fresh fruit
– meat
– dairy products
The next time you are cooking, try to be creative by substituting wheat for veggies.
Here are some suggestions on how:
– hamburger/hotdog: use 2 romain lettuce pieces to use as a bun instead of an actual wheat bun.
– pasta: slice zucchinis in spaghetti using a spiral slicer (buy one here) and use your favorite spaghetti sauce.
Get more recipes here
Purchase local organic whole grains from Armstrong: Fieldstone Organics