Melanie Morrissette
PT, Corrective Exercise Specialist, SFL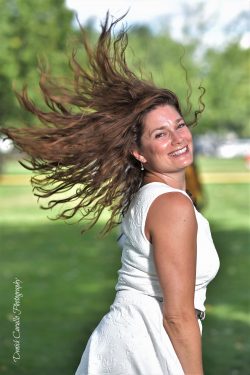 Personal Trainer,
Corrective Exercise Specialist,
Supervisor and Fitness Leader,
Senior Specialist,
SFL Osteofit,
SFL Chair Yoga and Yoga,
SFL Pilates,
SFL Aquatic,
PD, Stroke and Cancer Survivor Specialist,
Arthritis and Osteoporosis Expert.
Mel is a very active gal. From the ages of 6 to 16, she was a competitive gymnast and she played volleyball, soft ball, badminton and cycled.
Today, even if she works out every day, on weekends, she likes hiking, water skiing, boating, trail running, riding her motorcycle, camping, cycling, downhill skiing, snowshoeing, and traveling the world. Keeping active is an important part of her life.
Fitness has always been in her life and she decided to make it her career.
Mel is a certified Personal Trainer, Supervisor Fitness Leader, Corrective Exercise Specialist, and a qualified instructor for Yoga, Pilates, Weight Training, Group Fitness, and Aquatic Exercises. She is also a specialist in providing tailored exercises for those recovering from cancer, suffering from arthritis, or osteoporosis. Mel has also developed exercise activities for those with Parkinson's disease and older adult with mobility limitations.
She offers personalized Online Training and Home Programs. With a wide range of workout videos available: fitness for seniors, chair yoga, yoga, Pilates, cardio routines, fat burning workouts, high intensity interval training workouts (HIIT), Bootcamp, TRX exercises, stretching and flexibility routines, Aquatic exercises and so much more! She also writes a regular blog that provides helpful hints on keeping healthy and active.
Mel has been nominated best fitness instructor in 2022, 2021, 2020, 2019, and 2015 by Best Of Kelowna. She has been on the front cover of the Okanagan Woman Magazine (https://bit.ly/2W98bhY). She also had the opportunity to be one of the actresses on the documentary about the Okanagan filmed with the popular Canadian actress Karine Vanasse (https://bit.ly/2W80bgZ).  Her fitness videos are on Shaw TV (get the guide here).  She loves leading workshops for different organizations around the world.  She has been invited to speak on the radio and in Podcasts; she has been published in different newspapers and other websites such as In Focus, Straight form Dehart, and Radio-Canada.
She looks forward to sharing the passion of fitness with you. Her main goal is to make you feel good about yourself by helping you reach your nutrition, activity and fitness goals. She will help you to "GET BACK ON TRACK!"
Different Publications:
Why Choose Me as Your Personal Trainer /Corrective Exercise Specialist?
Because having an appointment with me is going to force you to stop your busy, daily routine to take care of yourself and your health. In fact, your health should be the number one priority. Being active should be part of your daily life.
Reduce your pain with different technics:  myofascial release, stretches and exercises
Improve your overall health; exercising reduces high blood pressure, cholesterol and your risk of getting cancer and diabetes. Plus you are going to lose weight and tone your body.
Improve your balance, coordination, and agility which will reduce your risk of falling.
Protect your bones; beginning a strength training program by lifting weights will improve your muscular mass and protect your bones and joints against arthritis and osteoporosis.
Reduce back and joint pain. The more you move the less pain you are going to feel.
Improve your cardiovascular capacity.
Have more energy to get through your days.
Significantly reduce your stress level.
Sleep better.
Live and be independent for much longer.
Aren't these all good reasons to start today? email to get more information. The sooner you begin, the better you are going to feel! Let's "GET BACK ON TRACK" now!
Certifications:
Certified with The British Columbia Recreation and Parks Association (BCRPA) and CFES
Group Fitness SFL (Supervisor Fitness Trainer)
Pilates SFL
Yoga SFL and Chair Yoga
Aquatic SFL
Personal Trainer
SFL Osteofit
Weight Training
Spin
Specializations:
Personal Trainer
Cancer Survivor Specialist
Yoga (Sivananda Yoga, 200 hours)
Pilates
Third Age Module (to work with older adult)
Arthritis & Osteoporosis (Osteofit)
Exercise and Parkinson's Disease
Aquatics
Exercise after a Stroke
WaterArt: Seniors Instructor Certification Course & Programming for Common Medical Conditions
TRX
Kinesis Wall
Circuit Training Exercise
HIIT
Functional Fitness
Bootcamp
Building Better Bones
Agatsu Kettle Bell Workshop
Some of My Hobbies:
Organizing fundraiser events
Snowshoeing: http://youtu.be/qAap7lrekSw
Working out
Surfing
Slalom water skiing
Downhill skiing
Road biking
Mountain biking
Jogging
Hiking
Walking
Traveling
Riding my motorcycle
Going out with friends
Dancing
Golfing
Kayaking
My Gallery: