10 Ways to Naturally Sweeten Your Food and Drinks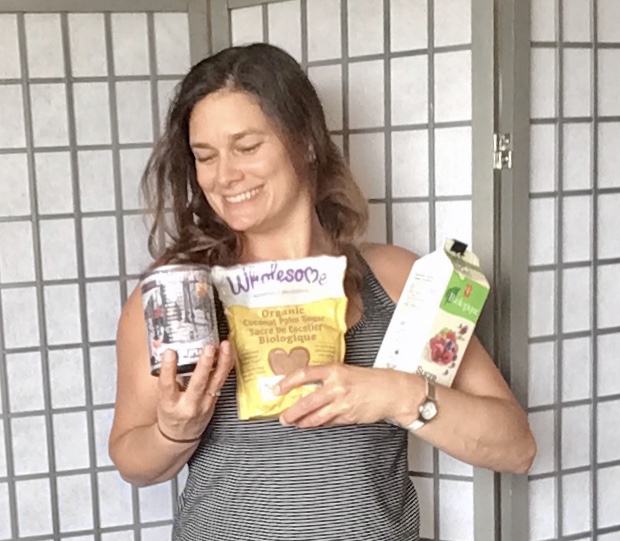 In our modern world, sugar is now everywhere. It is added to drinks, bread, salad dressing, ketchup and BBQ sauce, yogurt, and processed food. Companies want you to become addicted, to buy and crave for more. In the 50's, people were consuming an average of 5 lbs of sugar per year. Today, it is 158 lbs per person! That is one of the reasons why there are more obese people in North America.
Indeed, people who have sugar on a regular basis, they first get satisfied and get a boost of energy and then, they finally crash. Regular consumption of sugar increases wrinkles and accelerates the aging process, modify gut bacteria to potentially develop candida, and of course, weight gain. Keeping your glucose level stable all day is better to avoid crashing at 2 or 3 pm. Just eat / snack on a regular basis. At lunch time, go outside for a walk or do a 30-minute yoga practice. It will help to get through your day without sugar or coffee!!
I always modify my recipes to avoid using refined, white sugar. Here are my tricks.
1- Maple syrup: A French gal cannot go without her maple syrup!
2- Honey: I use raw honey.
3- Dates: I soak them in hot water to add them to my food processor for my recipes or right into my smoothies.
4- Cinnamon, vanilla powder: I use them in my oat meal or smoothies to spice them up.
5- Vegetables: Carrots, celery, beets, and sweet potatoes are naturally sweet. They can be added to your smoothies and your muffin recipes. Even onions are sweet! Just cook them slowly in a pan to release the sweetness.
6- Dried fruits: I love drying my own fruits. I use my oven at the lowest temperature for 10-12 hours. Buy your fruits at your local farmers market and dry them. You can add them to your granola and oat meal.
7- Bananas: There is nothing better than ripe bananas to add sweetness to your favorite recipes and smoothies.
8- Apple sauce: I make my own and can it in the fall. You can also purchase it. Read the ingredients and make sure there is no added sugar. I like to buy the organic one.
9- Organic coconut syrup: It is a nice alternative to maple syrup.
10- Organic coconut sugar: Instead of using brown sugar, swap it up with coconut sugar. Indeed, coconut sugar has a glycemic index of 35 while white sugar is at 100!
Now that you know better, I want to challenge you to avoid sugar for 7 days and then, for 21 days. Use a calendar and put a heart on everyday that you don't have any refined sugar. Please share your comments and tell me how you are doing right here: Facebook Group or Email
Try some of my favorite snack recipes.