11 Clever Ways to Save Money on Groceries Despite Rising Food Costs for 2021
The food price reports indicate that Canadians will pay an extra $695 for food for 2021. The cost of meat and fresh vegetables is expected to rise up to 6.5% while bakery items may increase up to 5.5%.
There are ways for you to save on your next grocery bill. Here are some tips:
Prepare meal plan (get the PDF here). When you know what you will make for the week, it not only makes your life easier but reduces your grocery bill. Every week, I organize my meal plan and prepare my grocery list (get the PDF here) for my planned meals. I save time at the grocery store and I buy only what I need from my list. By doing that, you also waste less food.
Create a list of your favorite meals. I have a list on my phone of all my favorite meals and that is the way I prepare my meal plan and grocery list. I am also a busy working lady, so I need to find tricks to make my life easier. My meal list really helps.
Cook from scratch. You don't need to be a chef to cook quick and healthy meals. Keep it simple when you are busy during the week and learn to cook longer meals when you have more time. Get some of my quick and simple recipes here. Chicken breast served with steam vegetables are everything you need for a wholesome and quick dinner.
Use an Instant Pot, slow cooker or steam cooker. I use my Instant Pot at least once per week. It is so easy to use. You can prepare and cook meals in less than 30 minutes. Get some of my favorite recipes here. The slow cooker is also a good option to prepare a meal in the morning and when you are back home, it offers a welcoming aroma and is ready to eat. I also use my steam cooker for quinoa, rice, fish, chicken breasts and vegetables. I just start it and I can do something else while it is cooking. Noting gets dry and my rice/quinoa does not burn on the bottom of my pot!!
Buy on sale (use flyers or coupons) or family pack and freeze them in smaller portions. If you want to save on your grocery bill, buy what it is on sale. Indeed, when I used to eat meat, I was always buying the family pack and dividing for 4 people and then freezing it.
Avoid wasting food. Each year, the average Canadian household wastes 300 pounds of food which is estimated to be valued at $1,100. We waste 45% of the veggies and fruit we buy. Before food gets bad, freeze it and use it for smoothies or stews. For my veggies, I also use the vegetable green bag (find them here) to preserve them longer.
Forget the donut! Pastries, cheese, pop, candies, fast food and processed food can quickly increase your grocery bill. Instead, buy whole foods such as lean meats, fish, nuts, yogurt, beans, fresh or frozen vegetables and fruit.
Don't shop when you are hungry. If you are starving, you might buy more than you need. I used to buy junk foods for snacks, but now I always keep granola bars and nuts in my car or I bring a smoothie with me. When I don't have any snacks in my car, sometimes I go to the sushi section and eat them right there and then I go shopping!
Shop local. Buy directly from the farm to save money and get fresh vegetables and fruit.
Buy generic brands. Save money by trying some generics brands. Popular brands such as Ketchup are more expensive than the brand from your favorite grocery store.
Shop online. Buy only what you need and pick up your grocery when it is ready.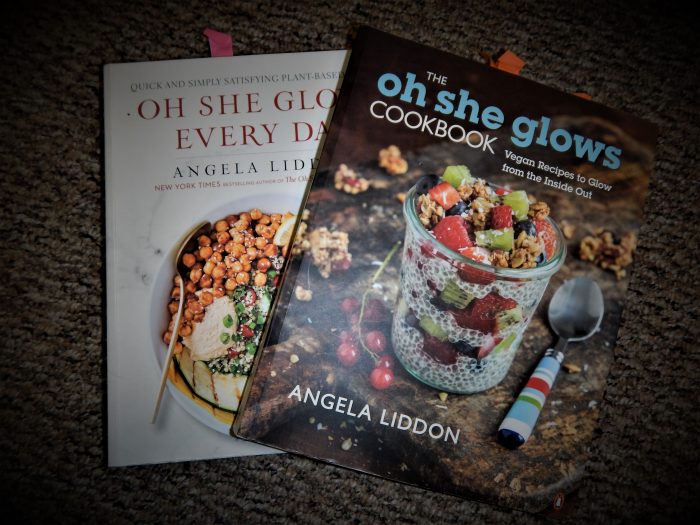 With Google and YouTube, it is now easier to learn how to cook and find nutritious and healthy recipes. Take a day this weekend to find new and quick recipes. Prepare your meals and grocery list. Contact me if you need guidance; I will be more than happy to help you.
Read more here:
– 20 Healthy Meals You Can Make in 20 Minutes
– 45 Quick Healthy Dinner Ideas for Beginners