6 tips for not sabotaging your new eating habits on weekends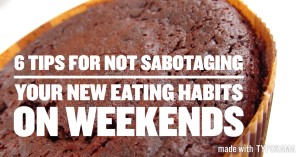 A lot of people give themselves permission to cheat on their eating habits on weekends. Unfortunately, all the good work they have done from Monday to Friday can be lost in 1 meal on Friday night. People who are focusing on weight loss indulge way more calories on weekends than on weekdays (about 30% more in 2 days). So, if you haven't released any pounds yet, that is probably the problem.
Try these tips to shred and keep it off:
Use a food diary to keep track of what you eat. Get your copy here. By seeing it you are more careful and eating less.
Try to keep it easy on weekends such as cooking fast and healthy meals (Link to recipes) or eat leftovers by completing with a salad.
Drink alcohol with moderation. You don't need to see the bottom of the bottle, trust me, you are going to regret it. Alcohol calorie calculator
Cheat during the week instead by giving yourself permission for a little bowl of sorbet and a small piece of organic dark chocolate for another day.  Get healthy dessert recipes here.
If you feel the need to cheat, you might feel that you live a restrictive lifestyle.
See yourself at the weight you want to be and believe in yourself. Lose weight by your thoughts. You are going to stay motivated to stick with your healthy food choices.