What to Eat and Drink to Boost your Immune System and Stave Off Viruses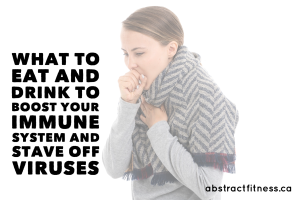 – Chicken broth: make your own here and freeze it. Keep it in the freezer for up to 3 months.
– Garlic
– Onions
– Mushrooms
– Citrus fruit
– Ginger
– Raw honey
– Probiotic supplements
– Fermented Food (Kefir, Kombucha, Miso, Kimchi.  Get the list here.
When I am sick, I make a batch of that MIRACLE HEALING BROTH (Oh She Glows)
VEGAN, GLUTEN-FREE, NUT-FREE, SOY-FREE, GRAIN-FREE, FREEZER- FRIENDLY
Of course hand-washing before preparing your meals, eating or after sneezing is still the best way to avoid getting sick.
Adapted from: the IDEA Fitness Magazine