Healthy and quick snack ideas to bring to work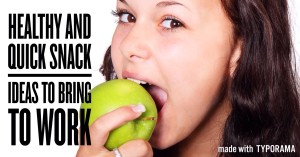 One handful of unsalted nuts/seeds (choose cashews, pumpkin seeds, macadamia nuts or pistachios) with 1/2 cup of organic yogurt with probiotics.
1 hard-boiled egg with 1/4 of avocado.
Vegetables with homemade hummus (get my recipe here) or tzatziki.
Low-sugar fruit such as apples, pears, blueberries, and bananas with yogurt.
Get more ideas here: 19 Healthy Snack Ideas