3 Reasons to Work Out to Music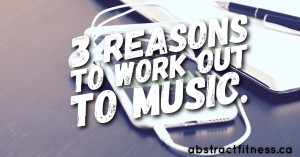 1. YOU'LL FEEL HAPPIER: Music activates the same reward or pleasure centers in the brain that respond to good feelings associated with eating and – believe it or not – sex.
2. YOU'LL MOVE FASTER: as I mentioned a few blogs ago, you'll have a better workout with music. In fact, the faster the beat, the more vigorously you work out, your endurance is better, you exercise longer and burn more calories.
3. YOU'LL LOSE BELLY FAT FASTER: Women who exercised to music lost as much as 8 pounds more than women who broke a sweat in silence.
Now you understand why I'm so happy listening to my favorite tunes!! As some of you know, I also love dancing. Join my Zumba Fitness. Get more information here.
Read more here: 7 Reasons You Should Listen To Music When You Work Out, published by Huffpost