4 reasons to stay away from farmed fish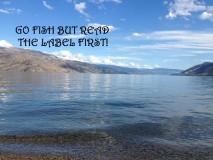 When I read the label of those fish/"crustace", a lot of them are from China and India! Stay away from them, as there are:

no regulations,
a lot of seafood fraud,
mislabelling,
seafood which is higher in mercury and other toxic metals.

Instead, buy from Canada/USA. Buy your fish whole. With the skin still on the fish, you cannot get fished. If there are none available at your favorite grocery store, visit a local fish or farmer's market. They usually buy directly from the dock.
Moreover, try to avoid farmed fish as they are fed poorly to get them as big as possible to finish up in our freezer quicker. Perhaps, if you are ready to pay the price of an organic farmed source from Canada or the States, go ahead.

Read  more here: Buy wild or farmed fish?  From CNN