Yoga is The Best Therapy for Individuals With Non-Communicable Diseases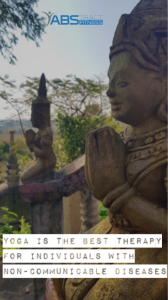 Yoga expert Dr. Nagendra claims that yoga could be the best therapy for people living with heart disease, diabetes, obesity, asthma, anxiety, stress, and hyper-tension.
Yoga is so gentle on the body. Sun salutation rises gently the heart rate such as some asanas. Start with Chair Yoga, Hatha Yoga style and progress to Power or Vinyasa.
Have a look at my calendar to know when I teach Chair Yoga and Power Yoga. Click here
Read more here: By Dr Poonam Khetrapal Singh, WHO Regional Director for South-East Asia