7 Holiday Cocktails to Stay "On Track"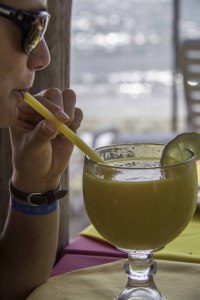 Photo by Bev Serviss
Substitute sprite or 7 up with soda water.
I love my mojito!  Of course, I don't add any sugar and it is the lowest sugary drink. Make your own here.
– 3.5 oz Cosmo (213 cal, 14g sugar)
– 3.5 oz Daiquiri (167 cal, 8g sugar)
– 6 oz Bloody Mary (169 cal, 4g sugar
– 3.5 oz Margarita (186 cal, 5.5g sugar)
– 6 oz Vodka Cranberry (186 cal, 15g sugar)
– 3.5 oz Martini (190 cal, 2g sugar)
20 Low-Calorie Holiday Cocktail Recipes
Keep in mind that moderation is the best way to keep you on track.
If you need a hangover helper, make soup from frozen homemade broth.
Source: Shape Magazine, 2015