4 points to consider when buying your first yoga mat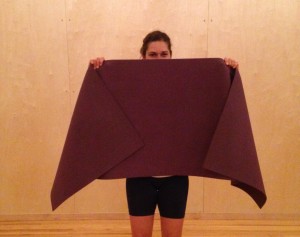 – How are your knees?
If you have bad knees, a thicker one (thickness closer to 1/4 inch)  may help you to start and make your practice more enjoyable.
– Where are you going to practice, in the sand or on the grass?
These surfaces are easier on the body and a "less thick" mat may be enough. However, if you practice on a hard surface, a thick mat may be more suitable.
– Do you walk with your mat to where you are going to practice?
If yes, consider a light one (1/16 inch) with a shoulder strap.
– Material: consider a environmentally friendly material such as recycled rubber, jute, cotton, or bamboo. PVC mats are usually super sticky to prevent slipping while doing poses but they are not very environmentally friendly.
For myself, I have 2 mats:
– A thick one for hard floor that I can carry only for a short distance because it is heavier.
– A light one to carry on my bicycle everywhere I need to teach yoga in the City of Kelowna.
Who said you need a yoga mat to practice?  In summer, I like bringing only a big towel to practice yoga on the beach. That way I can use it for yoga and lay back and relax on the beach:)
Read more here: