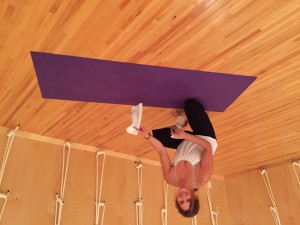 – For a quick clean up, spray your mat with a Tea Tree essential oil solution in a clean spray bottle. Add filtered water and 20-30 drops of Tea Tree essential oil. The Tea Tree helps to kill the bacteria. Read more about Tea Tree oil here: 25 Uses for Tea Tree Oil
– Wash it by hand in your bath tub. Let it sit for 30 minutes or so in a little bit of detergent (I like using environmentally friendly ones). Use a body sponge to gently scrub it on both sides.
Or
– Even easier, wash it in your washing machine on the delicate cycle with (1 tsp) of laundry detergent.
Namaste