A "Quicky"… Perfect For An Afternoon Ride
1- East Side Kelowna to Black Mountain: 1hr / 40 km
Do you want to get lost?  Use my post it idea and write down the roads you are planning to explore.  There are so many roads up there and it is soooo beautiful.  I love the smell and view of orchards, the city and the lake.
Notes: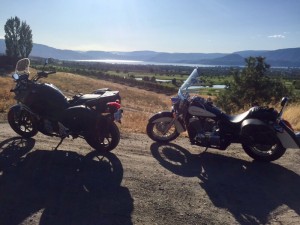 2- Kelowna to Vernon using Carrs Landing Rd. and back by Westside Rd: 2h20 min. / 141 km
I love using back roads because I can drive slowly and enjoy the scenery.
Routes: Kelowna to Vernon using Glenmore Dr, Carrs Landing Rd, Old Kamloops Rd and then Westside Rd.

(Google Maps)

Notes:

Carrs Landing Rd is one of my favorite. In summer, I pack my swim suit and have a dip in the lake.  There is also a nice cafe (Ok Patio Cafe) to get an ice cream, snack, lunch and of course coffee!