2 Day Trip
1- Kelowna to Harrison Hot Springs and back by Kamloops (app. 815 km)
Day 1:  Kelowna to Harrison Hot Springs (Google Maps)  by Manning Park: 4 hrs for 340 km.

Notes:

There are mountain passes in Manning Park and the weather can change very quickly.  Make sure you are equipped for rain, and cooler temperatures.
Our plan was to ride a little to enjoy the beautiful village of Harrison Hot Springs and the public hot springs pool (click here to get the info)
We slept right in the village at Harrison Lake Hotel (3 stars) which has underground parking.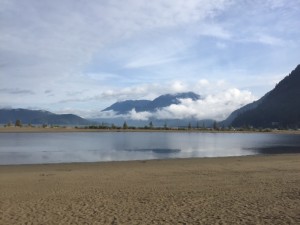 Day 2:  Harrison Hot Springs to Kelowna  (Google Maps) by Kamloops: 4h30 min for 410 km

Notes:

We used the Coquihalla from Hope to Merritt.  Again there are mountain passes and the temperature can drop significantly.
If you have more time, you can also use 5A from Merritt to Kamloops.  Make sure you don't take any short cuts (Campbell Creek Rd.) because it is gravel.  There is another very nice one that I have used in the past from Harrison Hot Springs.  Hwy 12 to Lytton and Lillooet, Kamloops and then Kelowna: 6h40 min for 545 km (Google Maps)
Be prepared for high speed traffic and wind.